16 Ways to Use Facebook Messenger Ecosystem for your Business
Did you know that Facebook Messenger's ecosystem empowers a sturdy monetization by targeting ads to potential audiences?
Yes, Facebook Messenger is ubiquity a 'platform' that connects retailers and business. Over 1 billion active monthly users, who are using Facebook Messenger to make live video and voice call.
Sounds like a notable rise, isn't it?
When conversation leads to commerce, it raises the Business messaging level. With over 30,000 active bots allows Business to experience 10x increase using the world's largest social chat messaging platform.
Business oriented people are searching new pavement to grow on B-2-B Level. 69% People who use FB as Business Messengers agree to the fact that it is the most convenient method of creating better communication. Facebook Messenger offers the valuable customer insights to increase brand awareness and loyalty. Today, Facebook Messenger ads are ruling the market segment with more number of companies stay in connection with their customers through this application. Messenger has generated quicker communicative experience. Truly, Facebook Messenger is a platform where conversation comes to life.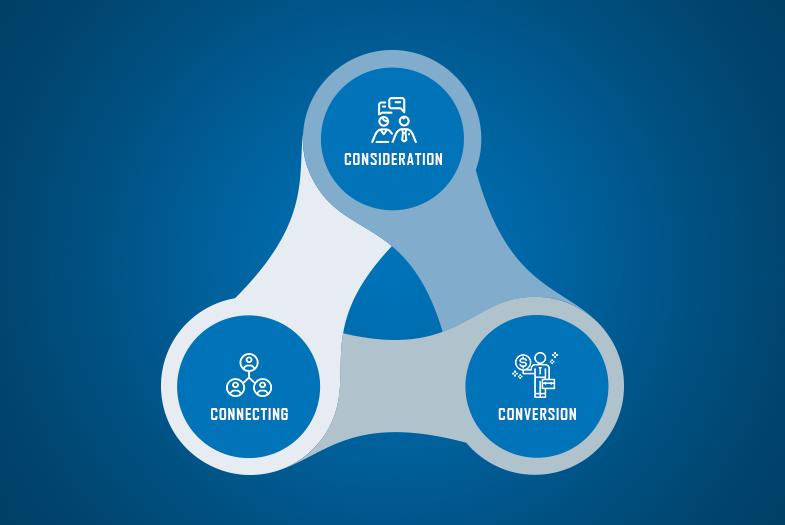 So, how can we spurn this channel, which communicates around 1 billion businesses messages monthly?
16 Steps to Use Facebook Messenger for Business.
1.Brands Username
Unique Username creates a brand identity. Setting up Facebook Messenger is quite easy.
In Facebook Messenger selects and click on Create Page @username in the left column of your page.
Enter your unique brand username & produce by selecting the Create Username.
The username will appear with @symbol below your page name.

2.Permit Messenger for your page
Turn on the messages on your brand page and answer the queries of the customers.
Go to setting, click on general. Then scroll to Messages and Begin your edit.
Tick & Allow people to contact the brand Page privately by showing the Message button.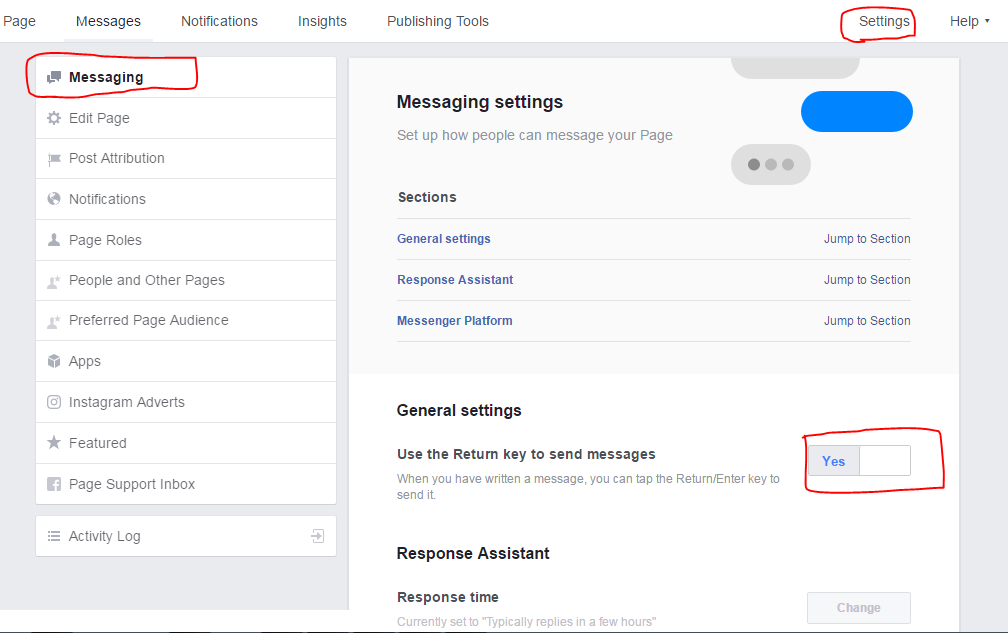 3.Feed in Instant Replies
Customers do expect instant replies from the brands. Feed your personalized content to direct the visitors. Turn on the instant replies in messenger. In Facebook Page select settings and click Messaging. Under response assistant, tick 'Yes' for sending instant replies. You can add the appropriate message and save it.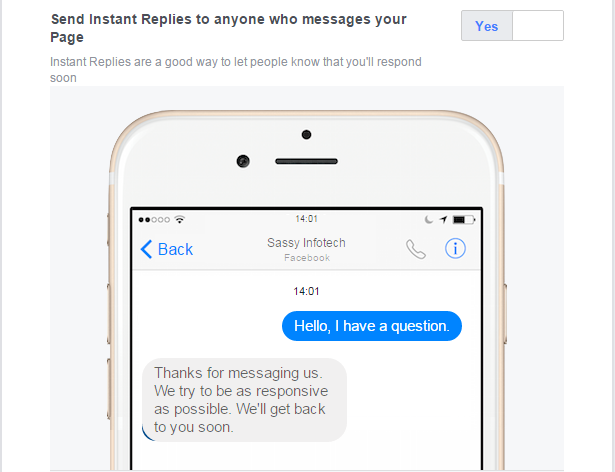 4.Supervise the response time
Shorter the response time better the conversation. Brands must regularly respond to the users. Facebook Messenger App divides a badge to those brand pages whose average response rate is 90%. To aim for the badge, you must respond to the users within 15 minutes of the queries posted by users.
5.Secure with QR CODE
Facebook Messenger enables scan-able codes. Messenger Code for your business is merely a profile image for the page encompassing dashes and dots. If you watch closely, it looks like Morse code in circular version. The Messenger Code is located in Messages tab, click on the information icon. Business can share this code to their website or social media handles to promote the brand.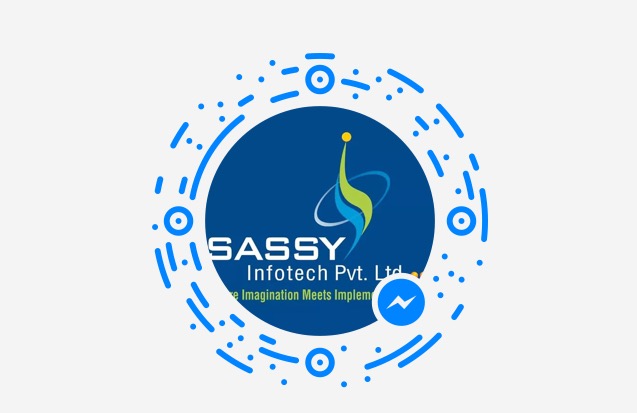 6.Use Links
Messaging App receives great retention. So, Add Messenger Link to the website, email signature and social media accounts to boost conversation with your customers.
https://www.facebook.com/sassyinfotech/messages/
7.Create Ads Awareness
Local Ads are the great way to create a diverse network with Facebook Ads. Launch Local FB Ads from your FB Business page and target audience within your geographical area. Encourage audience to learn more about the brand by adding the Send Message call-to-action button.
8.Facilitate Customer Care Services
Respond to each customer query, question or comments privately. Although, the post will remain public and visible to everyone but always the private message so that all your customer needs to get fulfilled. The private message will enable powerful conversation between the customers, and brand. Always monitor the Messenger to provide a faster response as a customer service channel. If you perform prompt and instant replies to customers, you'll receive 65% increase in customer satisfaction level.
9.The rise of Chatbots Services
With the help of artificial intelligent Wit.ai Bot Engine, understand what the users are saying. Use the structured templates to create actionable content include text, images, call-to-action, etc. Bots provide a personal shopping assistance to the users. Business should generate a scalable and pleasant user experience.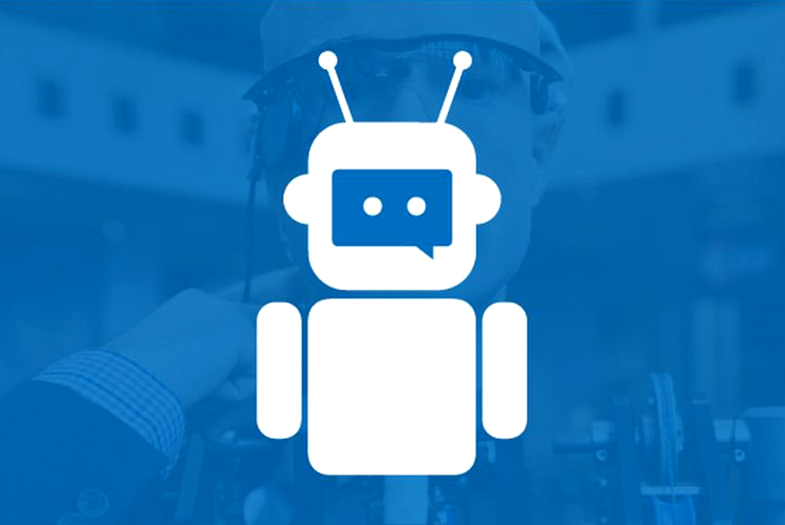 10.Sell through Messenger
Through the medium of the new program in Messenger platform, Advertisers can roll out ads in News Feed and drive-in more visitors to chat with the Bots.The program [BETA] has the feature to enhanced mobile websites, make payments via messenger, and much more. With App-level analytics, Attachment re-use for fast multimedia sends, and quick replies. It makes seamless content sharing with bots and friends.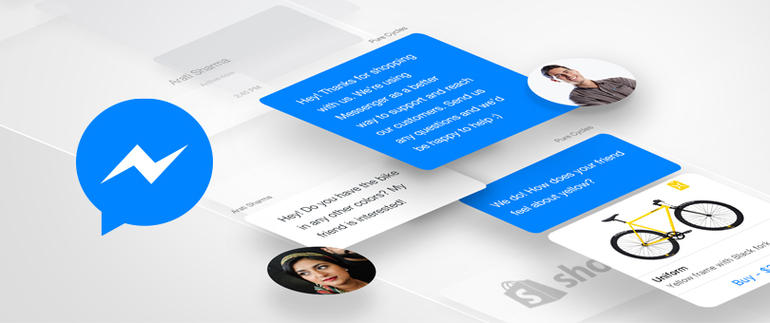 11.Use Live Video
Get real-time respond to the messages. Create an addictive combination of products and services. As Live Video feature is added to Facebook, it's growing immense popularity on the social media accounts within tremendously less time-frame. The Live video supports brands to live stream videos and publish directly. Facebook Live Stream have opened a spectrum of innovative campaign to effectively interact with the audiences. The Mid-roll Video Ads, Facebook Stories, and Live Video stream features are generating new avenues to attract visitors with indulging branding strategies.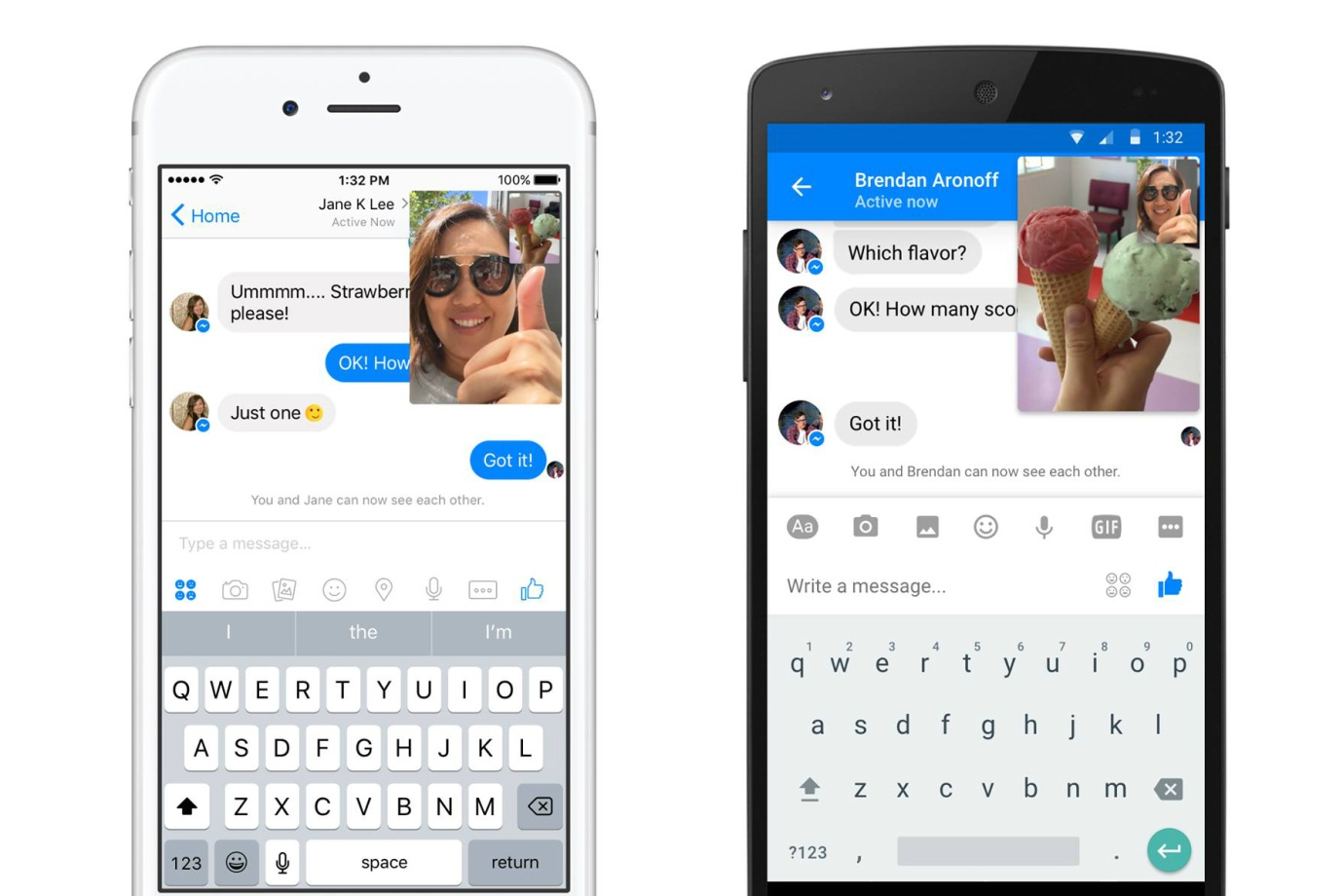 12.Add & Share Location
Adding your location ensure security, it is essential for conducting the meeting with clients or internal employees. Steps to include location in messenger, Open a conversation and tap the three dots icon on the bottom of your screen. Then click on Location, move the pin to your desired location. Just tap and send.
13.Add Dropbox integration in Messenger
Another technique to simplify interacting with colleagues and clients is to add Dropbox integration in the messenger so that you can send across all the files immediately. It's a convenient technique to share graphic design, videos, and images with the client.

14.Make users identify responsive Pages
90% response rate and less-than-five-minute response time will have the public badge. Add New & Improved tools for managing messages, responsive pages helps better communication with the customers.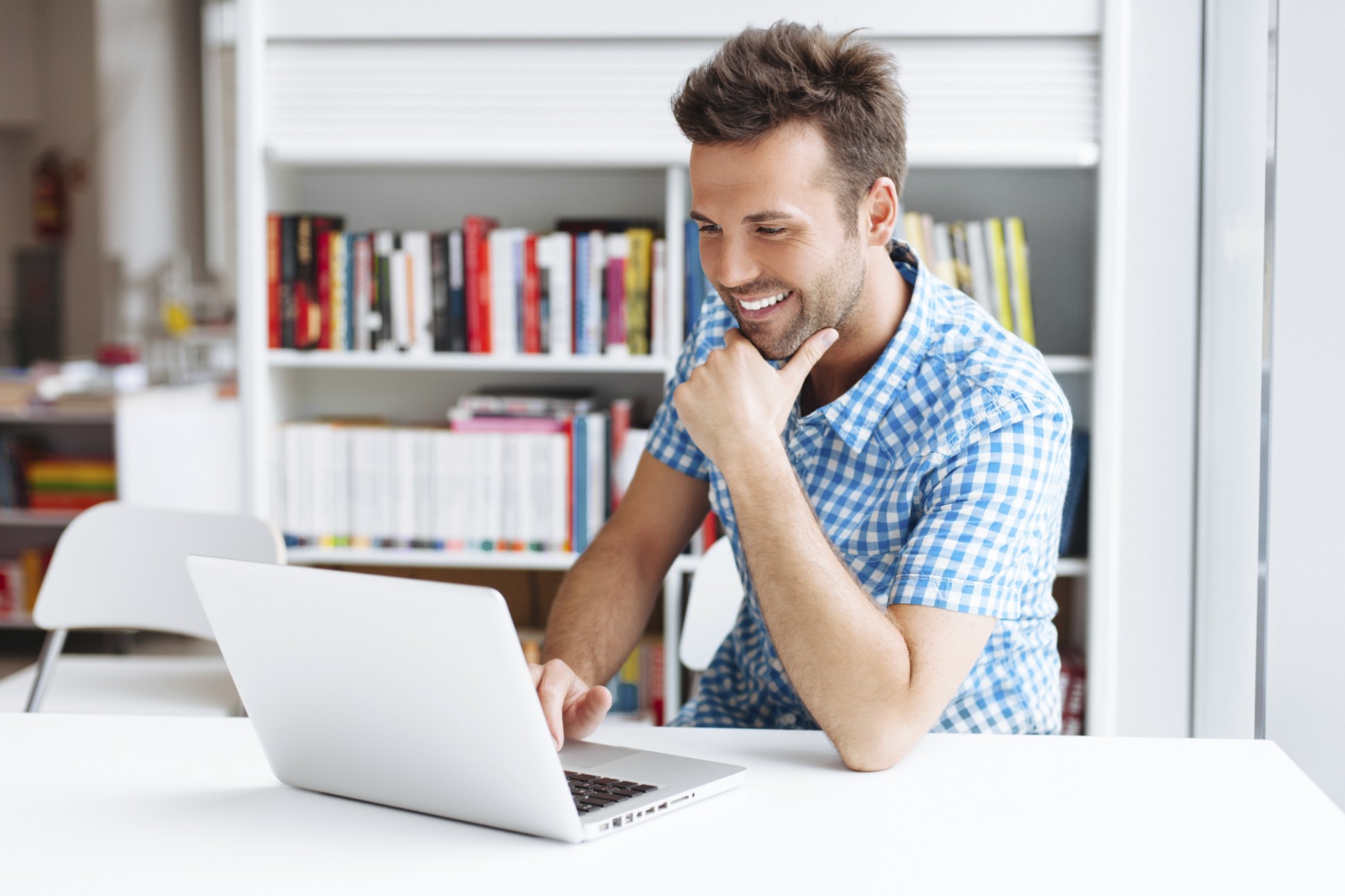 15.Real-Time Conversion
Start your conversations with Customers through Group Chats. Build users friendly copy to convert them into your loyal customers. FB Messenger is a chat app revolution that offers key insights to pursue potentially lucrative avenues.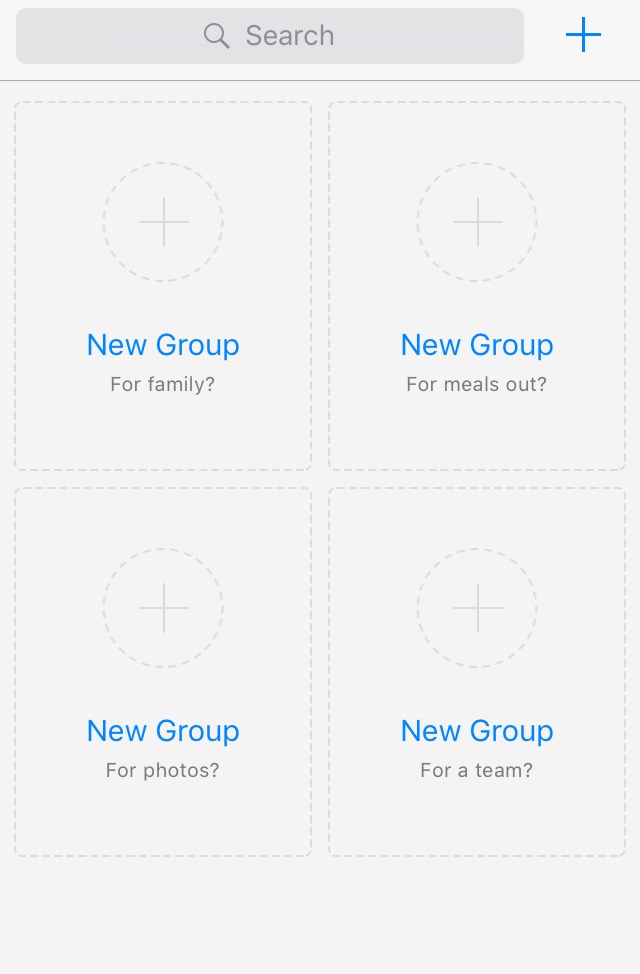 16.Track Competition
Facebook Messenger offers to stymie the growth of competitors. For business it is quite easier, to begin with, a voice and video call. Facebook Ads has the capability to draw up to 83% of users' attention.
And believe us, these tricks works! Facebook Messenger is bound to make an impact in your Business. So, if you want to convert Facebook Messenger's 1 Billion Active Users into your Customers, then follow these lucid steps to attain maximum reach or simply let us handle your social media mandates.
Feel free to share with us your views in the comment section below.